<<back to James Armstrong 2013 Exhibition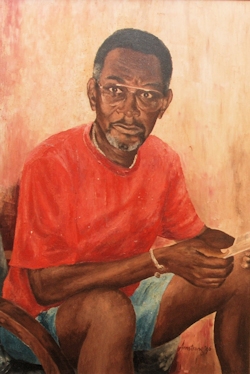 TRIBUTE TO EDDIE: ART EXHIBITION BY JIM ARMSTRONG. 101 ART GALLERY.  22-10-13
Dr. Edward Hernandez was born at Richmond in Tobago.  After spending much of his formative years in Trinidad, Eddie, as he was known to friends, returned to Tobago as an accomplished artist, craftsman and manager. 
While various persons in Tobago were involved in art since the 1950s, there was no known organized group dedicated to promoting the development and appreciation of art. Eddie was instrumental in the establishment of the Tobago Art Group (TAG) March 1961, with a few founding members, including Enola Arnold, Pat De Nobriga, Lucy Smith, Alfred James and Jim Armstrong.

Jim began painting at about age 12, but it was upon meeting Eddie in his early teens that his passion for painting and sculpture was ignited. Eddie revealed many years later that he had been advised by Jim's aunt, Eileen Guillaume, that she had a nephew who was "own-way" but interested in art.  Eddie told her, "Send him to me with some of his art."  Thus began a friendship lasting over 50 years.

Eddie offered art classes free of charge every Saturday for anyone who was interested.  Jim soon became his right-hand man and fellow artist, exhibiting annually with TAG and assisting younger artists.  Apart from the sessions with TAG, they established their own art studios within a half a block of each other and were able to spend much time collaborating while developing their craft. They were joined by the then young novelist, Earl Lovelace and soon became known as the "Three Musketeers" – seldom seen apart.

They separated in 1966-67, with Jim going to Canada to study and Earl heading to the USA. Eddie remained in Tobago involved in the promotion of the art movement and eventually the establishment of the Tobago Museum. Throughout the years the friendship was maintained, despite, Jim's long sojourn in Africa and other parts of the world working on development projects with the United Nations.  The coming together with Eddie was always an occasion for reminiscing and reflection – talking about art and developments throughout the world and circling back to the roots in Tobago.  Eddie was also engaged by the Medger Evers College in New York as an occasional lecturer and resource person for their studies in anthropology and the creative arts in the Caribbean. He was awarded an honorary doctorate by Medger Evers College for his sterling contributions to this programme.

Following early retirement from the UN in 2000, Jim committed himself to his art drawing on his wanderings around the globe.  He embarked on a series of one-man art shows.  "A Tribute to Eddie" is Jim's 7th exhibition since his return.  Jim discussed with Eddie ideas for the upcoming exhibition, fixed for mid-October at the 101 Gallery.  He indicated that it would be a tribute to their long friendship and partnership in the arts.  Eddie looked forward to attending to celebrate the occasion.  Soon after their initial discussions, Eddie fell ill and had to stop work as the curator of the Tobago Museum; however, they continued to meet regularly as was the custom, with Eddie focusing on returning to work at the Museum. Unfortunately, Eddie passed away on 26 August in the arms of his loving wife, Norma.  

This exhibition is a "Tribute to Eddie" for the good times, his mentorship and his unwavering contribution to the creative process. We thank you brother.