<<back to James Armstrong 2011 Oct- Harambee
<<back to Review/Press Releases - click here

Harambee in strength and diversity

Posted on 06 November 2011.

By DAVID CAVE
Every artist establishes individual identity through a signature style. That style may change as the artist's career evolves through different phases. Sometimes, as in the case of the Cubist, Pablo Picasso, or Neo Plasticist, Piet Mondrian, there is a gradual shift from Realism to Abstraction. Which is why the work of Tobagonian artist, James Armstrong, is so remarkable.
Here is an artist who seems as comfortable with realistic painting as he is with abstraction. In his recent art exhibition, "Harambee – Pulling Together", at the 101 Art Gallery at the Art Society in Federation Park, the 45 works on display stood out for their extensive degree of diversity, both in terms of subject matter and painting styles.
In the Gallery's catalogue there is a note by M.P. Alladin on Armstrong's first exhibition way back in 1965. Alladin said Armstrong's art "could always be recognised by its vibrancy of colour." The observation holds true to this day. Armstrong's latest exhibition is an ode to painting with style and flair. Details and colours leap out at the viewer and connect in ways that still photography might only dream of doing.
The true essence of Armstrong's work in this exhibition, however, is its diversity. As mentioned in the catalogue for the show, "Harambee" is the Swahili word meaning "pulling together"- which is precisely what happens in the exhibition as the artist pulls together some very divergent styles and methods. Perhaps Harambee is also the personal politics of the artist who is an Independent Senator as well.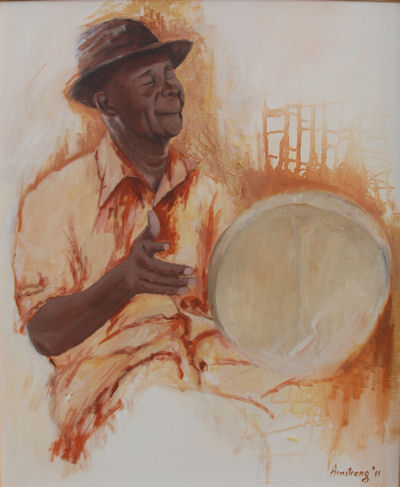 The exhibition was designed to be viewed in a particular order, starting from painting #1, Ballerina's Solo, located at the immediate right of the entrance. The paintings proceeded around the perimeter of the Gallery, ending with #45, Going With the Flow, located close to the left of the entrance. Through this linear viewing, Armstrong takes the spectator on a journey that has been charted for greater appreciating of the artist's range and skill.
What is particularly interesting is Armstrong's treatment of the subject of dance. In works such as Celebration in the Village and Bele Flair, the artist effectively captures movement with a truly unique sense of dynamism and sharpness. Convincingly conveying movement via the static, painted image, remains one of the greatest challenges in painting, but throughout this exhibition, Armstrong succeeds in achieving this- not just once, but repeatedly. Further, in paintings such as Bele Flair the depiction of movement excels at illustrating this balanced, transitional phase between detailed realism and pure abstraction, two other styles at which Armstrong is adept.
As always in Armstrong's work, the African presence powerful, an echo of his many African sojourns, although he emphasises that he is ultimately an artist of Trinidad and Tobago. Paintings such as Indian Dancers, and the many other realistic depictions of images that are uniquely Caribbean- such as his Carnival scenes and fishermen pulling seine- ground his work in Trinidad and Tobago.
For over forty years, Armstrong has proven to be a strong and accomplished artist, having exhibited at the 1967 Expo in Montreal, Canada, as part of the Trinidad and Tobago National Museum's contingent. From then he went on to display his work throughout St. Kitts/Nevis, Suriname, Guyana as well as at home. This exhibition was deserving of far more media and public attention than it received. The pieces were also reasonably priced.
The exhibition ran from October 19th to the 27th